Toast, Dip, Enjoy... Anywhere!
Marshmallow Toast 'N' Dip Kits for families to enjoy at home or wherever your adventure takes you. All our kits are 100% Plastic Free. Why? Because it matters!
Regular price
Sale price
£2.00 GBP
Unit price
per
Sale
Sold out
Our Toast 'N' Dip kits are now shipped using 100% fully recycled Mailing bags with the address label applied to the front.
However we also offer a Gift Wrap and a Plain Wrap option just in case you need to keep it a surprise for someone special or are sending as a gift direct to your lucky recipient!
View full details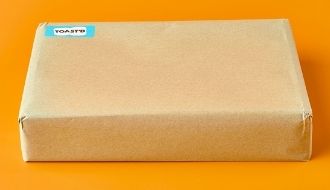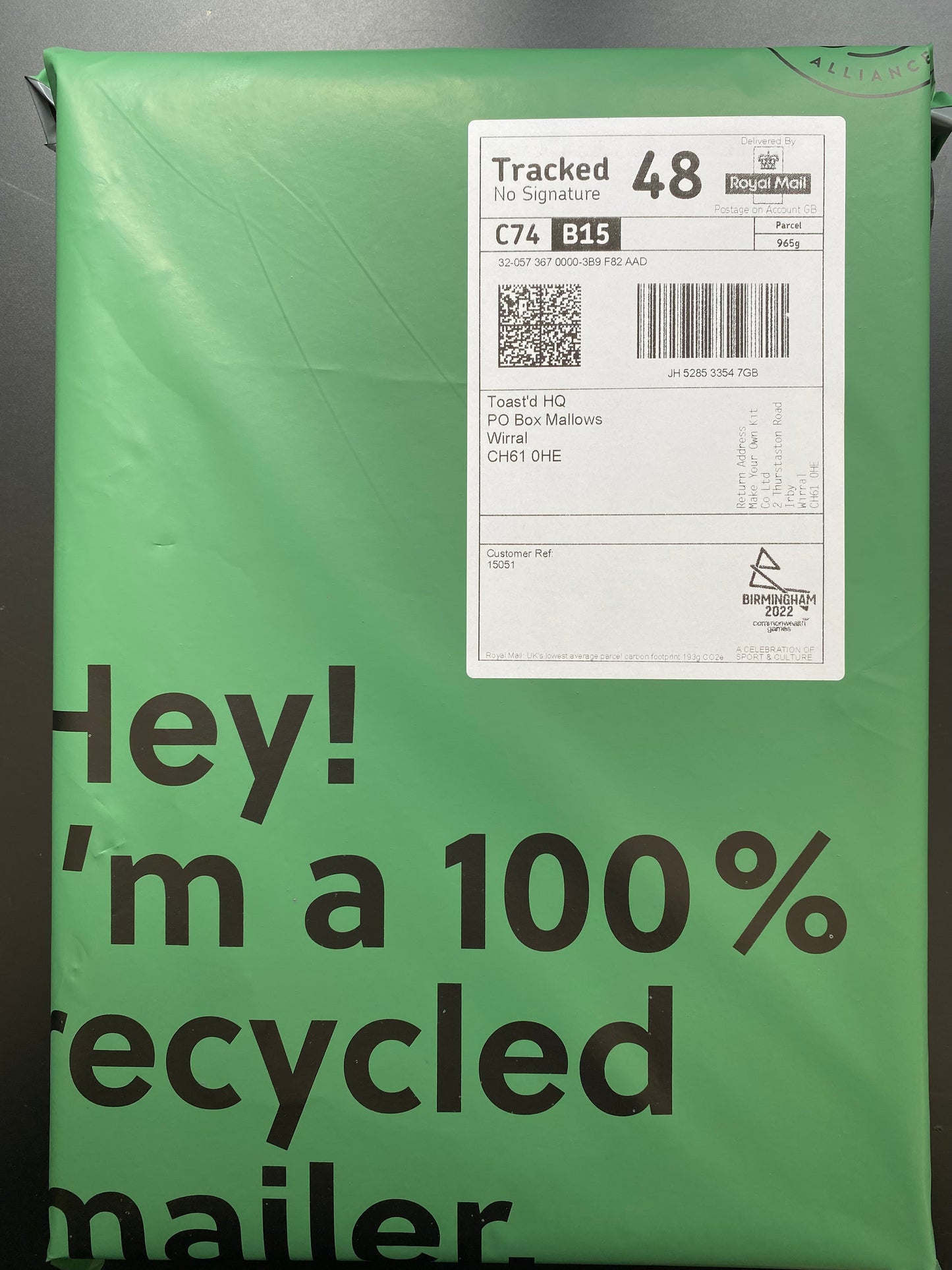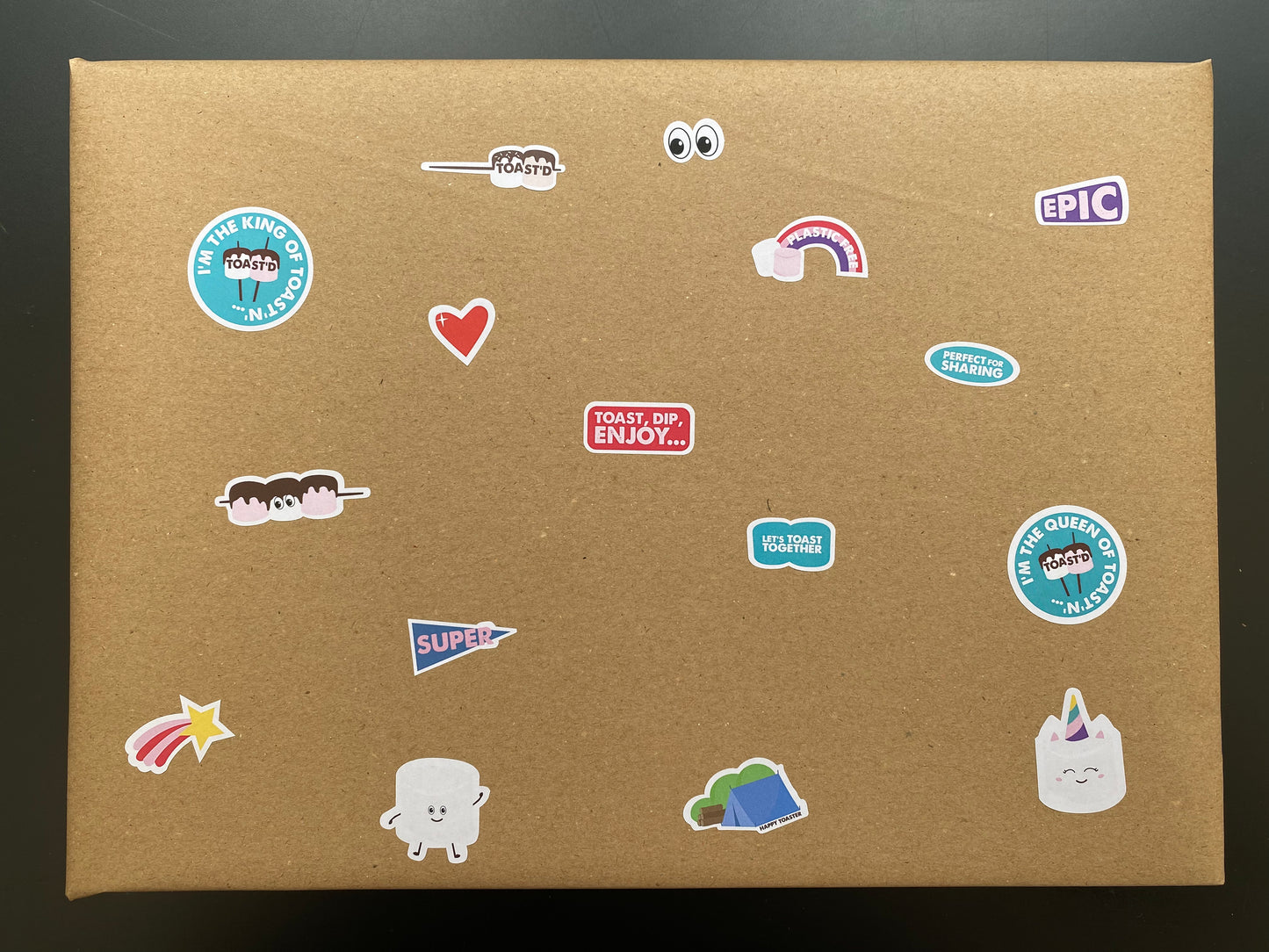 Now with Royal Mail 24h Express delivery as standard, plus free delivery on orders over £50.
Collapsible content
FAQs

Q- What are the delivery options?

A- Our delivery partner is Royal Mail and We currently use the Royal Mail Tracked 24 service as standard.

Express Delivery: £3.95 (Tracked 24 Next Day) 

We will try to ensure your order is processed, packed and shipped within 24 hours & on the same day on orders received by 2pm on weekdays.  Orders received after this will be processed and shipped the next working day. Orders received at the weekend & Bank Holidays, will be processed and posted on the next working day.

UK Delivery Only (at present)

At present we only deliver to UK addresses. As we grow, we may extend this service to cover European destinations and beyond. Feel free to register your interest at hello@toast-d.co.uk

 

Q- Can I reuse the Marshmallow Toaster?

A- In a word Yes. The Toaster is designed to burn continuously for circa 3.5 hours and can be extinguished and re-used multiple times.

 

Q- Why does the chocolate stay melted for so long?

A- Our chocolate has been specially selected for melting and retaining its fluidity for longer due to its Premium Quality.  Poorer quality chocolate will tend to harden after 15-20 mins and that's not much fun for dippin now is it!

 

Q- Why do you make a claim about your kits being 100% plastic free when you use plastic bags?

A- Actually the bags we use for our marshmallows, Belgian choc drops and Sprinkles are actually made from a derivative of wood pulp and not petroleum chemicals like plastics. That's why they have a crinkly feel to them. And because they're made from natural materials they are fully biodegradable and home compostable.

 

Q- How do I recycle the packaging responsibly?

A- All of the packaging within our kits are fully recyclable and should be placed in your recycling bin. However, it's best to check with your local council collection, as some councils vary their recycling rules.

The Compostable bags can be used in your home compost bin if you have one.

 

Q- Why are your Marshmallows the best Toasting Marshmallows?

A- Well like life, this was always going to be subjective and based on our own extensive taste and performance tests. We took pleasure and some pain in testing a variety of marshmallows to see which ones, looked the best, tasted the best but more importantly toasted the best for our family audience. After all, there's no point looking and tasting the best if it turns to a liquid when toasted - that wouldn't be much fun, especially for our younger Toasters! Our Marshmallows stood out against all the rest in all 3 criteria. We hope you'll agree!

 

Q- Do you plan to make any different kits?

A- Yes we do. We are about to launch our take on the classic S'mores kit but with a twist and have several more planned for later this year. So watch this space. Oh and if you have any suggestions then we'd be more than happy to listen to them. Just send them in!

 

Q- My order has not been received?

A- Please see our Delivery policy which highlights the expected delivery times associated with our shipping partner Royal Mail. If for any reason your delivery is not received within these timescales then please contact us as soon as possible at hello@toast-d.co.uk and we'll work quickly to fix any issue.

 

Q- My order has been received damaged and the bags are split open. What should I do?

A- If any of the ingredient bags are split on delivery, please contact us and we'll take it from there. 
Care + Safety

We've designed our kits to be completely safe to use but, as a naked flame is involved, we advise treating with caution, never leaving unattended, and only having grownups light the burner.
Let customers speak for us
Great Gift idea
A fun activity to do as family home or out and about! Yummy fun, nicely presented. Would recommend
Packaging
Great to disguise present. Easily recycled.